Because we all wore out our copies on VHS!
On August 24, 2004, we Roller Boogie fans got lucky when MGM decided to release our favorite film on DVD for the first time! After viewing the disc far too many times that I would like to admit (it's addicting!) I have to comment that the transfer -- while not perfect in certain scenes on the beach -- is damn good. MGM was smart and gave the audience a choice: see it full screen (as many of us did for the first time when it was on cable back in the 1980s) or Widescreen! Which is a treat because that is the best way to see a movie; as the director originally intended. And there is so much going on in each frame that it is a shame to miss all of the magic. My only complaints are about the lack of extras other than the trailer. (And there is only one trailer. According to the Press Notes, supposedly there are two.) But when you can pick up a great film for less than $15.00 you still come out ahead.
Here is the Cover Art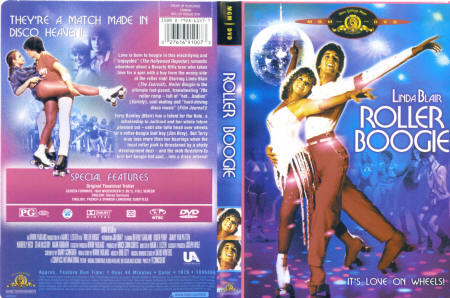 From the Back:
"Love is born to boogie in this electrifying and 'enjoyable' (The Hollywood Reporter) romantic adventure about a Beverly Hills teen who takes love for a spin with a boy from the wrong side of the roller rink! Starring Linda Blair (The Exorcist), Roller Boogie is the ultimate fast-paced, freewheeling '70s roller romp -- full of 'hot.. bodies' (Variety), cool skating and hard-driving disco music' (Film Journal)!
Terry Barkley (Blair) has a talent for the flute, a scholarship to Juilliard and her whole future planned out -- until she falls head over wheels for a roller-boogie bad boy (Jim Bray). But Terry may lose more than her bearings when the local roller park is threatened by a shady development deal -- and the mob threatens to turn her boogie hot spot .. into a disco inferno!"
DVD Menu: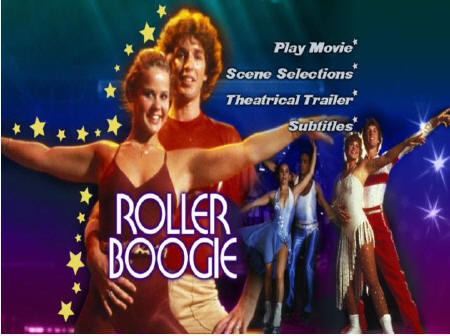 Special Features
Original Theatrical Trailer
16x9 Widescreen & Full Screen
English Stereo Sound
English, French & Spanish Language subtitles
Aprox. Feature Run Time: 1 Hour 44 Minutes * Color * 1979
Be Sure to Check out MGM's Official Page for Roller Boogie! Listen to fun sound bites, view the trailer, see some awesome photo of Linda Blair. Worth the look, trust me. The sound bites include one of my favorites, when Bobby is describing "a twerpy guy in a $600 suit." Classic. Jim Bray is so charming.
Copyright MGM, of course.
Online Review(s) of the Disc
Found this wonderful review at DVDTalk.com
"Roller Boogie is pure, unadulterated junk, but I mean that in the kindest sense of the word. The plot stinks, the acting isn't too hot, and the characters are flimsy and one-dimensional at best. None of that actually really matters at all though, because this movie delivers what you want in spades, and what you want is that special kind of camp that only the seventies disco movies can provide you. It's not on par with the classic of the genre, Saturday Night Fever mainly because no one here has the charisma and screen presence that John Travolta had in that movie. It sure does have a whole lot of dancing on roller skates though. For those of you out there who, like me, weren't coordinated to skate, let alone dance on skates as a kid (or quite possibly as an adult as well), you can live vicariously through this movie and pretend you were there.
Linda Blair is cute as a button in the lead, skating her way into your hearts and looking good doing it. Jim Bray, well, his performance is less than stellar but man does that cat have some moves. Wait until you see him in his ridiculously short short-shorts shaking what his momma gave him to some serious dance music out on the floor. You'll see why Linda Blair fell for him. He also kind of looks like Scott Baio - he has the same kind of hair.

So obviously we're not looking at Oscar winning material here. You can probably tell that by the cover art. But what we end up with is a great, campy, corny, genuinely bad movie that provides a whole lot of nostalgia and unintentional hilarity. It's garish, nonsensical, politically incorrect (watch for the one token black dude who shows up from time to time with his tape player around his neck), but a whole lot of fun."
You Can See A TON of Screen Caps HERE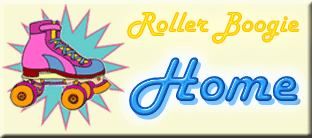 Created By Susan Miller * EMAIL * Page Last Updated 10/20/2004