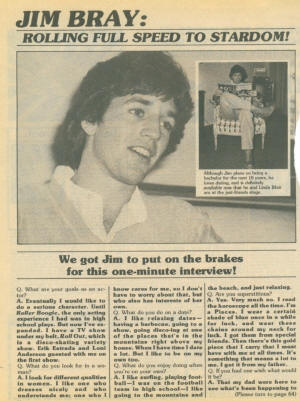 Q. What are your goals as an actor?
A. Eventually I would like to do a serious character. Until Roller Boogie, the only acting experience I had was in high school plays. But now I've expanded. I have a TV show under my belt, Roll Out, which is a disco-skating variety show. Erik Estrada and Loni Anderson guested with me on the first show.
Q. What do you look for in a woman?
A. I look for different qualities in women. I like one who dresses nicely and who understands me; one who I know cares for me, so I don't have to worry about that, but who also has interests of her own.
Q. What do you do on a date?
A. I like relaxing dates -- having a BBQ, going to a show, going disco-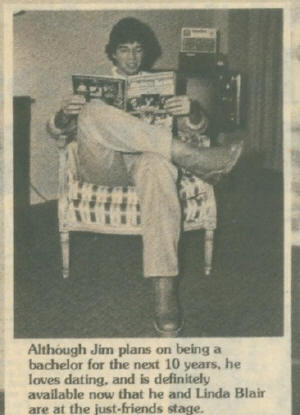 ing at one of the places that's in the mountains right above my house. When I have time I date a lot. But I like to be on my own too.
Q. What do you enjoy doing when you're on your own?
A. I like surfing, playing football--I was on the football team in high school--I like going to the mountains and the beach, and just relaxing.
Q. Are you superstitious?
A. Yes. Very much so. I read the horoscope all the time. I'm a Pisces. I wear a certain shade of blue once in a while for luck, and wear these chains around my neck for luck. I got them from special friends. Then there's this gold piece that I carry that I must have with me at all times. It's something that means a lot to me. I got it from my father.
Q. If you had one wish what would it be?
A. That my dad were here to see what's been happening to me. He passed away a year ago last Christmas.
Q. Do you have any brothers or sisters?
A. I'm an only child. It was kind of lonely being an only child sometimes. When I was younger I would come home and wish I had a brother or sister just to talk to or to fight with. You need someone just to let it all out with. But I had two great parents who helped me all the time, who I could talk to about anything, so it made things easy.