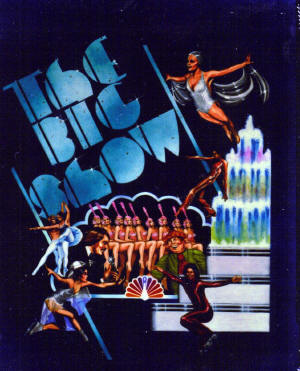 Save for a credit, Jim Bray (sadly) has no mention in this review. But I have chosen to include it so fans can get a sense of what the show was all about.
THE BIG SHOW

With Gary Coleman, Steve Allen (hosts), Alexander Gudunov, Steve Martin, Peggy Fleming, Loni Anderson, Cynthia Gregory, Graham Chapman, Mimi Kennedy, Charlie Hill, Owen Sullivan, Adolfo Quinones & Shabba Do, Gallagher, Mummenshanz, Dionne Warwick, Jim Bray, Dancing Waters, Jerry Dye, Greg Lewis, Jimmy Martinez, David Winters Dancers

Supplier: Nick Vanoff Presents

Producers: Vanoff, William O. Harbach
Director: Walter C. Miller
Writers: Gary Belkin, Bill Dana, Jim Fisher, Jim Staahl, Frank Peppiatt, Barry Adelman, Barry Silber, Allen

120 Mins, Tues (4) 9PM

NBC-TV

NBC-TV's latest attempt to revive variety on TV turned out to be a sort of Ed Sullivan show with live hosts. The biggest thing about "The Big Show" was the sets--a large ice rink and an Olympic-sized swimming pool with dancing fountains.

The two-hour opener (the rest of the this season's show will run 90 minutes) had "Different Strokes" star Gary Coleman and Steve Allen as hosts. There was no surprise in the latter's suave and gentle handling of his role. But Coleman's poise and lively acceptance of a role without the guidelines of a scripted character added special credit to an unusually gifted black child performer. His instincts for timing and pacing are thoroughly adult, but despite those traits, he always manages to retain the charm of a child.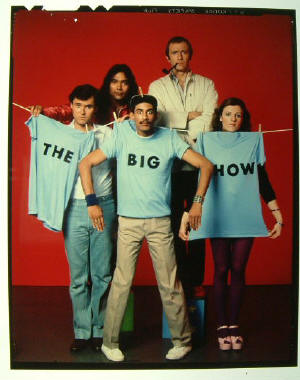 The show itself was a mélange of skits, ice-skating, singing and dancing. Alexander Godunov, the recent Soviet defector, dipped into his classical bag with expected grace and Adolfo Quinones ked his comedy dance troupe through an overly patterned routine. He and the group might be well advised to forego some of that choreography for some straight dancing and let the movement take care of the art, rather than the other way around. Peggy Fleming was her usual graceful self in her number and the water ballet would have warmed the heart of Billy Rose, so closely did it ape his old Aquacade extravaganza.

Dionne Warwick sang "Deja Vu" and "I'll Never Fall in Love Again" with warmth and familiarity.

But the heart of a variety show is still its comedy. The preem had some up moments and some downers, but none really soared. Allen and Coleman overcame some average material as the former tried to explain to the child how to be a talk show host. But a skit about Hollywood pictures that were never released and another about a Me Decade convention were so-so at best.

Gallagher impressed with a couple of comic bits and Graham Chapman of Monty Python, who will be a regular, showed that he can enliven the weekly scene in a skit with Allen.

With the costly setting, the show could hardly have looked bad on camera. Director Walter C. Miller kept things moving and had his cameras in all the right places. The key to the show's success will be the hosts who replace the preem's Coleman-Allen pairing and a constant flow of good comedy material.