JAPANESE MOVIE PROGRAM
Pages 10 - 17
Several pages have been translated into English, thanks to cyber friend Meg in Kobe, Japan! (Thanks!).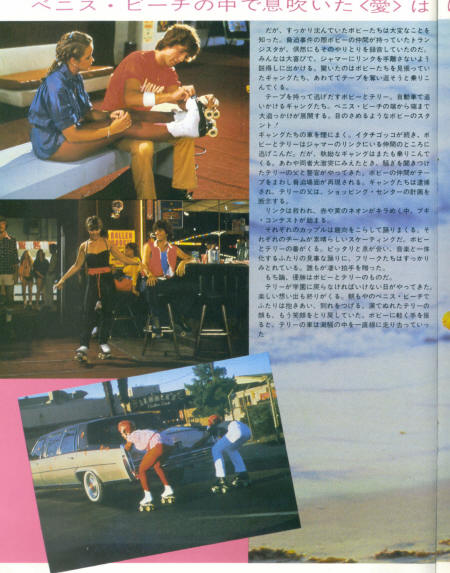 "Then, depressed, Bobby and his friends find out something important. A radio of his friends accidentally caught the swing of conversation during intimidation case of Jammer. This happening wowed them, and they went to Jammer's place to persuade him not to sell roller rink out. Lookout gangs were surprised, and rushed into Jammer's place to get back recorded tape in a mad rush. Bobby and Terry were running away with that tape. Gangs were chasing by car. It's a hot
chase, running the length of Venice Beach. Bobby performs electrifying stunts!

"Bobby and Terry mystified gang's car. Cat-and-mouse game continued, they run inside into their friends place at Jammer's roller rink. But gangs also ventured into Jammer's roller rink with insistence. Just before severe conflict of both sides, Terry's father and the police officer came in by catching ado. Bobby's friend played back the tape, intimidation case was reconstructed. Gangs were arrested, Terry's father gave up the shopping center plan.

"Finally, the roller rink was saved.

"Roller Boogie contest starts with the glittering red and yellow neon light. Couples dance passionately with lots of variety. All of them seem great. It's Bobby and Terry's turn. Perfect-matching dance united with music. The other roller-skaters were fascinated, everyone hailed of applause. Of course, victory is for Bobby and Terry.
"Then, the day comes when Terry has to go back to school. Their wonderful moment is also ended. They hold each other, and bade farewell in the morning mist of Venice beach. Her tearful eyes soon came to a smile. Her car turns away in a straight line with the sound of surf, by giving Bobby a little wave."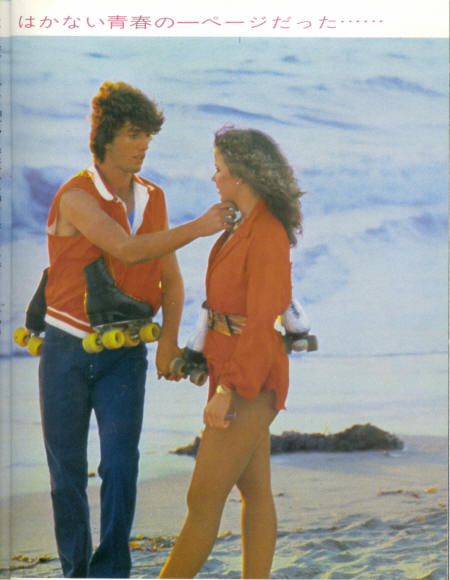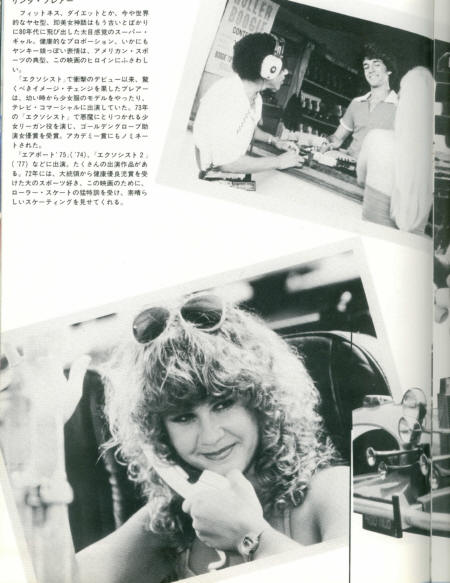 Linda Blair
Fitness, dieting, etc. The global trend of slimming and its Slim Beauty legend was over. She is 80's Super Girl with well-stacked body. Her healthy figure, and the look of a Yankee girl is perfectly matched for a traditional American sports movie heroine. Since her sensational portrayal debut in The Exorcist, Blair changed her image dramatically. She had already had a full career in modeling of children's clothing and TV commercials. In 1973, she won a Golden Globe for best supporting actress, as Regan, the devil-possessed little girl. Also her portrayal in Academy nominated : Airport 75 (1974) and The Exorcist 2 (1977). Appeared in lots of films. In 1972, she received a prize, winning a health contest from President. Great lover of sports. In this movie, special training of roller-skating made her skating perfect."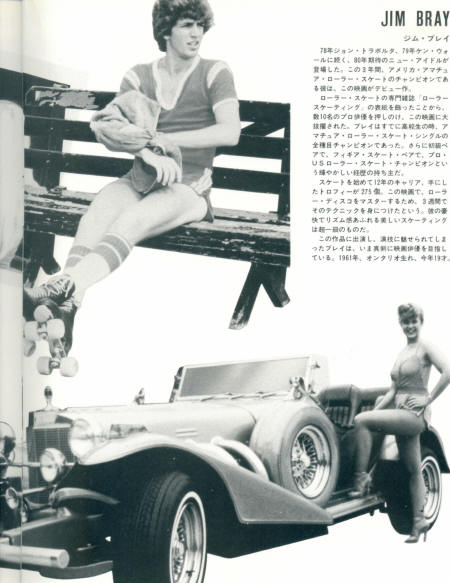 JIM BRAY, 80's expected new youth icon, continues in the tradition of John Travolta (1978) and Ken Wahl (1979).

"For the last 3 years, he was an amateur champion of roller-skating in US., and this is also his debut film. As his picture was on a cover of a specialized magazine called Roller Skating, he was selected as a lead actor among more than a dozen professional actors by pushing them away. In high school, Bray was a champion of amateur Roller Skating, all in Singles. Besides, he built an impressive carrier as professional US Roller skating champion for primary pairs and pairs figure skating. In his 12 year career in skating, Bray obtained 275 pieces of trophy. Only 3 weeks was needed for him to master roller disco in this film. His beautiful and dynamic skating with rhythm is topnotch.
"During filming this movie, acting fascinated him. Now he is aiming to be a serious film actor. Born in Ontario, 1961. 19 years old."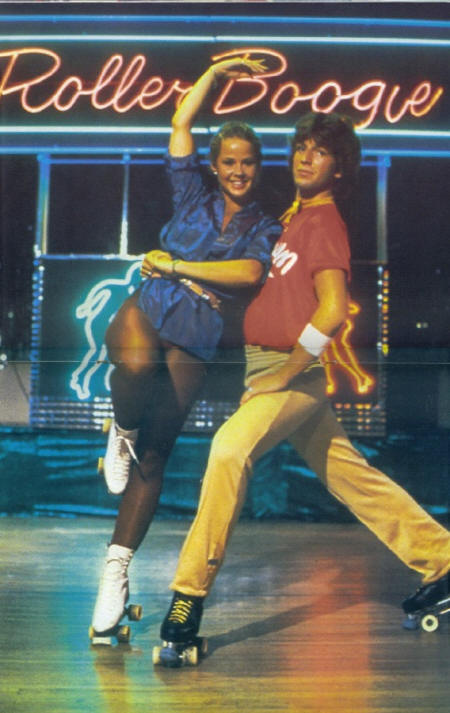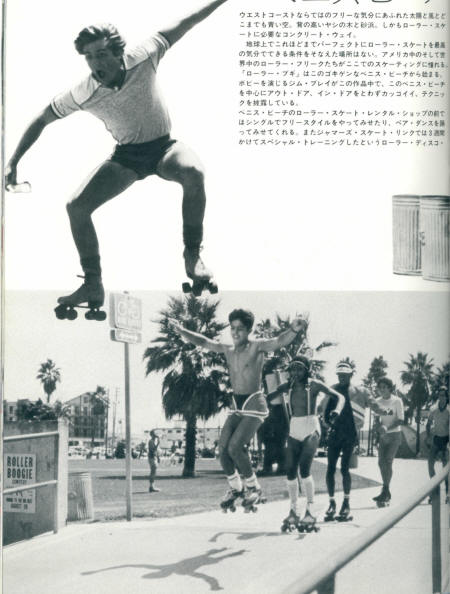 "Bright glaring sunlight and endless blue sky. It's free atmosphere is typical for the west coast. Tall palm trees and sandy beaches. A concrete road (the strand) necessary for roller-skating, is there. There is absolutely no other place except Venice beach, because it is equipped with the best conditions of the world. Roller-skating at Venice beach is an adoration for roller freaks in America and all over the world. Roller Boogie starts at the adorable Venice beach. Jim Bray starring as Bobby performs amazing skating tricks indoors and outdoors around it. He skates Singles free style and pair dances in front of the Skate rental shop. Above all, his roller-disco is the greatest one!. He specially trained 3weeks for it at Jammer's roller rink."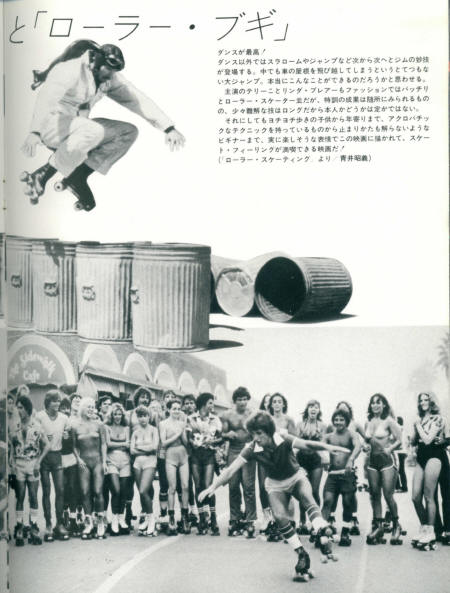 "Besides, Jim puts on a superb performance in slalom and jumps. Most surprising of all is his big jump over the roof of a car. That's a totally amazing scene. Terry (starring Linda Blair) puts on a nice outfit like a roller-skater, however it is uncertain if she really skated the difficult routines--because it was shot from a distance.

"This movie gives you a nice feeling of roller-skating, by showing smiling children to old people, from beginners who do not know how to stop to advanced skaters with acrobatic techniques."