Movie News (June 1980)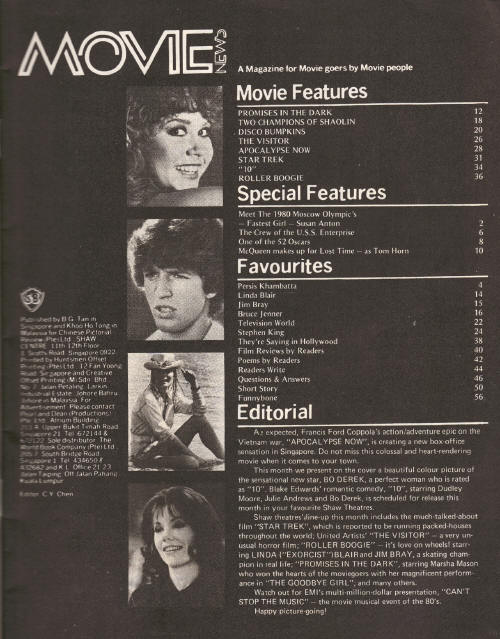 "Linda Blair, starring as Terry Barkley in ROLLER BOOGIE, the roller-skating/Disco film presented by Irwin Yablans, exhibits a new side of her acting capabilities. She now portrays Terry, the musical prodigy daughter of a wealthy Beverly Hills family. Accomplished on the flute, and destined for the famed Juilliard School of Music, Terry is bored with her lifestyle and is drawn to the excitement of the Venice beach and the California music scenes as she learns to disco-skate in preparation for the big boogie contest. Another side of her role is a romance with co-star Jim Bray, a roller-skating champion. ROLLER BOOGIE is a Mark L. Lester Film produced by Bruce Cohn Curtis and directed by Lester from a screenplay by Barry Schneider based on a story by Irwin Yablans, the executive producer. Joseph Wolf is the associate producer for the film.
Linda is best known for her first serious dramatic role as Regan in THE EXORCIST. Ms. Blair also starred in AIRPORT '75 and has earned critical acclaim for her starring roles in two movies for television BORN INNOCENT and SWEET HOSTAGE. Most recently she was seen in an NBC-TV movie STRANGER IN OUR HOUSE and has completed a Canadian theatrical release.
Linda's main and consuming interest is horseback riding. She owns her own horse and is considered a superb horsewoman who has demonstrated her skill with jumpers in major horse shows and fairs. An avid enthusiast of all outdoor sports, in 1972 Linda received the President's Physical Fitness Award. She was able to meet, without too much difficulty, the physical challenge of her role in ROLLER BOOGIE."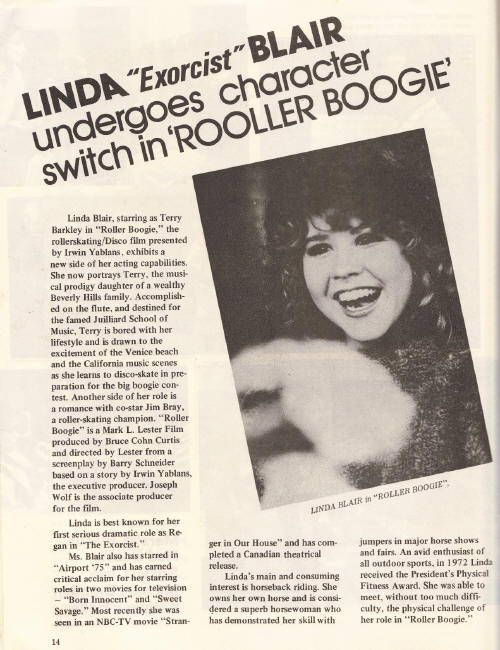 "Jim Bray, the United States amateur roller-skating champion for three consecutive years, makes his motion picture debut starring opposite Linda Blair in ROLLER BOOGIE, presented by Irwin Yablans for release by Shaw Organization.
18 year old Bray, a native of Ontario, had to relinquish his amateur standing and become a full-time professional to star in ROLLER BOOGIE, a roller/disco film directed by Mark L. Lester. He was amateur single skating champion in every category in school and was US amateur champion in the elementary pairs category. He reached the same level in couples figure skating for two years in a row.
Bray has skated competitively for 12 years, winning altogether about 275 trophies. He now is working to build his strength in the freestyle area of artistic skating. To achieve this goal, he has studied with Omar and Delores Dunn of Bakersfield, California. The Dunns are considered two of the nation's leading instructors of figure skating.
Bray was chosen over several professional actors for his part of Bobby James in ROLLER BOOGIE. He learned disco skating in a grueling three-week training period before production started.
For the future, Bray wants to concentrate on acting. He also would like careers in sports writing and teaching, and someday own a skating rink.
ROLLER BOOGIE also stars Beverly Garland, Jimmy Van Patten, Roger Perry, Kimberly Beck, Sean McClory and Mark Goddard. Irwin Yablans is executive producer of the film, which was produced by Bruce Cohen Curtis and directed by Mark L. Lester from a screenplay by Barry Schneider, based on a story by Yablans. "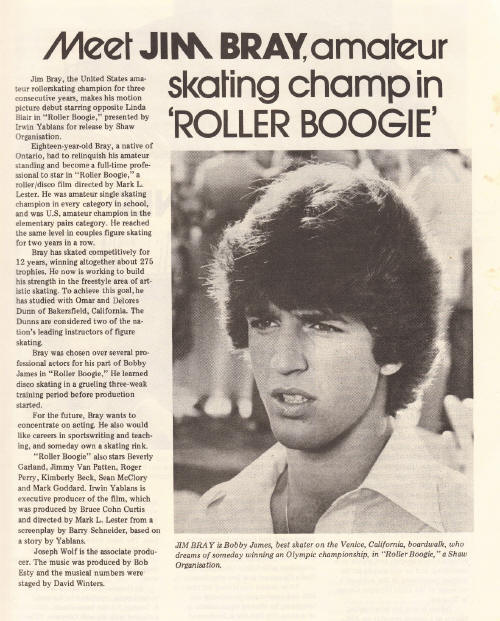 ROLLER BOOGIE is a love story with the roller-skating disco world as its background, is presented by Irwin Yablans for release by Shaw Organization. Starring in the LA based Mark L. Lester film is Linda Blair in and about face role from her now famous demonic possession (THE EXORCIST). She plays Terry, a sweet Beverly Hills teenager who learns to disco skate in preparation for the big Boogie contest. Jim Bray, in his acting role as Bobby James, demonstrates his skill as a champion skater playing opposite Ms. Blair. In real life he has been the US amateur roller skating champion.
Irwin Yablans, the executive producer, created the original story which was fashioned into a screenplay by Barry Schneider. The yarn was inspired by the roller skating craze now sweeping the country. Disco fever is also rampant throughout the world, and to capitalize on this highly energized music Casablanca Records will release an original double-soundtrack album to coincide with the film's release. The music is composed and arranged by Bob Estey, famous for his score for THE MAIN EVENT. The title track for the album is Cher's newest hit: "Hell on Wheels."
Prior to production, skating trainer Barbara Guedel tested more than 300 skaters, both amateur and professional for roles in the film. Skaters who could dance, dancers who could skate, skaters, dancers, all were auditioned at various LA locations. Finally, 50 were selected and trained in routines by David Winters who staged the musical numbers.
Locations included Venice Beach, the place where the California skating craze began. Local talent was on hand for the filming sequences to lend support and advice to the movie's skaters. Opening production numbers are set in this beach atmosphere and the combination of blue sky, sand, healthy bodies and fun should enhance the film's broad spectrum audience appeal. Also the Stardust Ballroom in Hollywood became a converted disco palace, complete with neon lights, strobe effects and hundred of satin clad, rhinestone-studded bodies skating the floor.