Those "Roller Boogie" Guys!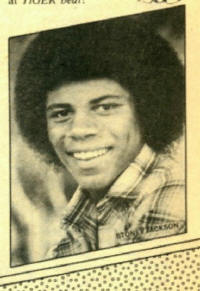 Roller Boogie is a fantastic new movie that will really keep you on the edge of your seat. You might say it has a little of everything--action, excitement, and three of the cutest guys you ever saw--meet them now!
"Roller Boogie is one movie you won't want to miss! In addition to the roller skating scenes, the fantastic music, slapstick humor--and tender love scenes, you'll find some of the cutest guys you'd ever hope to meet.
Jim Bray stars as Bobby James, the skating champion (and Olympic hopeful) who sweeps pretty co-star Linda Blair off her feet (literally). In real life, Jim's a skater, but now that he's had a taste of acting, he really thinks he might like to make a career of it. And when you see Jim in the movie, you'll have to agree he's the cutest thing on wheels.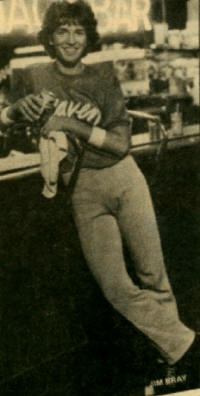 At 5'10" tall and 150 pounds, 18 year-old Jim's in perfect shape and his body is strong and sexy. He's always loved sports such as surfing, skating and, of course, roller skating is probably his number one favorite--and what a terrific skater he is--he definitely ranks among the best! When you see him skating in the movie, you'll know why Jim's close friends have nicknamed him "Flash"!
Another guy you won't be able to resist is cute Jimmy Van Patten, who plays Hoppy, the crazy, fun-loving guy who keeps everybody in stitches throughout most of the movie. At 23 years old, Jimmy is the middle son (between Vincent and Nels) of Dick and Pat Van Patten, and he's only been acting for a few years.
One of Jimmy's first major roles in a feature film came just over a year ago when he won a role in California Dreaming. They wanted a surfer who could act, and Jimmy just fit the bill! After auditioning nearly 100 guys, they decided Jimmy was the best surfer and a very good actor as well. Dad Dick is very proud of him and says "Jimmy's a real clown. The laughs are always at his expense so people really love him." And once you've seen him in Roller Boogie you'll know it's true.
Stoney Jackson is terrific as Phones, the guy who's always wearing his head phones and listening to music (even when he's not skating). Not only is he cute and handsome--he's 5'10" tall and weighs 160 pounds--but he's also very talented as an actor and a skater.
Roller Boogie is Stoney's fifth feature film and he's appeared in many TV features as well. From the talents he displayed in Roller Boogie, it's obvious he'll be around for a long time. Stone and his cute co-stars will surely set your heart spinning, and they'd love to hear from you. You can write them at Tiger Beat!