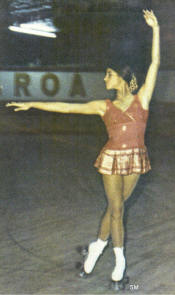 Allen (Powell), April

From: Houston, Texas
Pro: Pamela Cornwall
Rink: Carousel Skating Rink
National Titles: Juvenile Pairs 1965; Junior Pairs 1967; Junior Girls Singles 1969; Intermediate Ladies Singles 1970; American Senior Ladies Singles 1971; International Senior Ladies 1972; Senior Pairs (with Abe Blass) 1973;
Misc: Co-starred in the roller disco movie Skatetown USA with Patrick Swayze.

"SKATING every interclub competition, within her region , has become quite important to the look of confidence she always seems to have. "The more experience on the floor the better." Confidence comes with hard work and experience, but April still gets nervous "every time I skate a meet," she commented. " From APRIL ALLEN, SKATE Magazine, 1971

American Championships, 1971: "April Allen skated fourth in the field of seven finalists. She opened her program with slow ballet music during which she displayed her superb talent for blending classical ballet to roller skating. The most serious flaw to her routine was a slip on the landing of a double axel which nearly resulted in a fall. Otherwise her content was strong and clean, showing double loop, lutz, flip and combinations in the jumping department and fast, clean line spins in beautiful form. April's routine contained a liberal sprinkling of music-orientated footwork, unmatched in the contest with the possible exception of Penny Martin. If we can presume to be critical of her performance, it would be in the area of some of her forward power strokings which we found to be uncharacteristic of the general routine, being choppy with the body bent forward at the waist....April Allen was awarded a unanimous first place by all judges." From APRIL REIGNS, SKATE Magazine, Fall 1971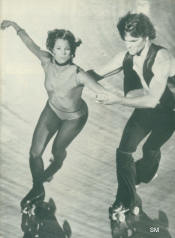 AMERICAN ARTISTIC CHAMPIONSHIPS, 1971: "April Allen and Abe Blass, who finished second in the USIC Pairs contest and in doing so won a position on the American World Championship team heading for Barcelona, Spain, dropped to third place in the Senior Pairs event because of trouble in coordinating their content items, causing two spills in their routine." SKATE Magazine, Fall, 1971

INTERNATIONAL, 1972: "Although trailing in the school figures, the magnificent free skating performance of April Allen catapulted her to an overall first place and the Gold Medal. The free skating factor of 10.5 when multiplied by the high scores for her performance, made it very easy for our prima ballerina to make up the point deficit necessary to win. Grace and feminine sensitivity were the highlights of April's performance." SKATE Magazine, Fall 1972
---
Barile, Darlene

From: Agawam, Mass
Pro:
Rink: Carousel Roller Rink
National Titles: Juvenile Singles 1963; Juvenile Singles 1964; Freshman Girls Singles 1965; Junior Ladies Figures 1966; Junior Ladies Singles 1966; Senior Ladies Singles 1968; USIC Ladies 1971;
Misc: She was awarded the title "strongest female skater in the world" by the renowned ice skating champion Dick Button while he was working as the announcer for ABC-TV's Wide World of Sports telecast of the 1969 World Gold Skate Classic held in NY's Madison Square Garden.

At the invitation of the Italian Art Skating Team, Barile toured Italy's roller rinks for a month.

On the rinks in Italy: "Unlike the U.S." Darlene said, "all of the skating rinks were outside, covered with cracks, leaves, acorns, etc. In fact, I only skated in one indoor rink and that was because they wanted me to compare their floor to those in rinks back home. Near the end of my two month visit it turned cold in northern Italy and skating outdoors became difficult because you have to thaw out first. The outdoor floors were usually very slippery but I enjoyed skating every exhibition and every person I met."" From VENI, VIDI, VICI: DARLENE BARILE, Skate Magazine, Spring 1971

AMERICAN CHAMPIONSHIPS, 1971: "Darlene Barile, USIC Champion, skated next with her usual authority, offering the only clean double boeckl thrown in the contest. Darlene had lapses of control during portions of her routine which apparently hurt her positions with the judges. During one combination jump series, Darlene pulled off an excellent double lutz as the first jump, but lost her grip on the remaining, easier jumps in the group. A fall on the last spin, ending her routine, did her no good, from the standpoint of final placement. Darlene had one of the best skated routines in the contest, containing good presentation, interesting movements fitted precisely to the music and, of course, her usual array of powerful jumps and spins." Skate Magazine, Fall 1971

USIC CHAMPIONSHIPS, 1971: "Darlene Barile, the well known skating talent from Massachusetts, overcame her 4th place after compulsory figures to win the Ladies event. Darlene, however, did not win the free skating part of the competition, this was done by Kathy Miller. Kathy performed a kind of competitive miracle by pulling up from 11th in figures into 3rd place overall. A scoring error led figure winner Natalie Dunn to be declared champion and was presented with the trophy. Natalie ended the contest with the highest total points after figures and free skating were added together. When tabulating fault was discovered and corrected, Natalie acted in the most gracious manner by publicly returning the victor's trophy to Darlene. Natalie is a champion sportswoman as well as a fine international style figure skater and will also represent the United States, along with Darlene, in Barcelona. " Skate Magazine, Fall 1971
---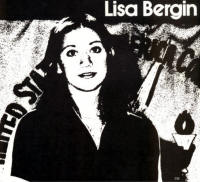 (Deceased)
From: Ft. Worth, Texas
Pro: Peggy McCallum
Rink: Holiday Roller Club
National Titles: Junior Ladies Freestyle 1974, Senior Ladies Freestyle 1976; several speed championships
Misc: Was a member of her high school High Steppers Drill Team

On skating both art and speed:" 'I love artistic skating for its beauty, and I love speed skating for its excitement,' says the enthusiastic skater. 'All my life I have trained in both and I feel that the two are very complementary. What you learn from one helps your skill in the other. For instance, in artistic skating, you build co-ordination and ability to recover from falls, which is very helpful in speed competitions. In speed, you build up your body strengthen your endurance and learn to think extremely fast on your feet which is a big help to your artistic skating abilities.'" Skate Magazine, Spring 1975
---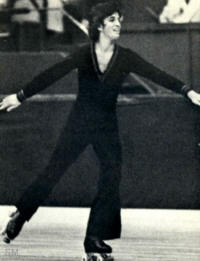 From: Ontario, California
Pro(s): Tom Panno, Rick Weber
Rink: Holiday
National Titles: Juvenile Pairs (with Robin Miller) 1971 & 1972; Elementary Boys Singles 1972 & 1973; American Freshman Boys Singles 1974; American Junior Mens Singles 1975;
MISC: Starred in the 1979 roller disco film Roller Boogie. Was friends with skater Dean Maynard circa 1975.
" 'Old pro,' Jim Bray, the young showman from Ontario, California, won his 5th National Championships this year at age 13. Jim has developed his own skating style and shows great potential for future years both as a Pairs and as a Singles skater." SKATE Magazine, Fall 1974
For more on Jim check out my Jim Bray Appreciation Page.
---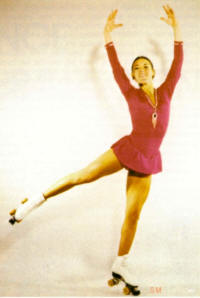 Brigham (Pitcher), Moana
From: San Diego, California
Coach: Elmer Ringeisen
Rink: Skyline Rollarena
National Titles: Sophomore Ladies International Singles 1974; American Senior Ladies 1975;
Misc: Won first in the 1973 Ladies Singles at the Gold Skate Classic; Served as an Alternative Judge; holds Gold Medals in Dance, Figures, and Freestyle

"The night I won the American Senior Ladies Title was the first time in my life I just naturally felt like smiling when I was on the floor. Instead of skating to please my teacher, or the judges, I was skating to please myself. I was enjoying myself and it showed." Skate Magazine, Spring, 1976 (by Patty Wood)
---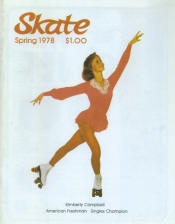 From:
Pro: Laurene Anselmi Patton
Rink:
National Titles: International Elementary Dance 1974; Freshman Girls Figures 1975; Junior Ladies Figures 1976; Freshman Singles 1977; Junior Pairs (with Kurt Anselmi) 1978;
Misc: Slightly superstitious about her clothes, choosing bright red for skating Singles, and pink and burgundy for skating Figures. Kim considers burgundy her good luck color; Younger sister of skater Terry Campbell;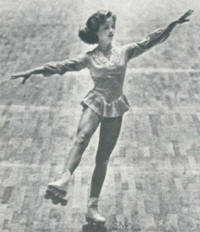 American Championships, 1978 "Kimberly Campbell and Kurt Anselmi of Pontiac Michigan, captured their first Junior Pairs title at this year's competition with perfect ordinals." SKATE Magazine, Fall 1978

American Championship, 1977: "Her performance was one of the most exciting moments of the Championship. She skated a beautifully balanced program, incorporation a double lutz, a double loop, and a double flip. She executed these items in her program with a finesse and style that had many observers comparing her graceful, ballet-like movements with the past performances of April Allen Powell. Her 1977 Freshman Singles championship title was the milestone in her competitive career that signified her readiness for International events." SKATE Magazine, Spring 1978
---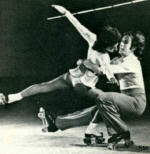 Chappatta (Ray) & Meija (Karen)
From: Summit, Illinois
Pro: Tim Abell
Rink:
National Titles: Sophomore Pairs 1972; Junior Pairs 1973; World Champion Pairs 1978;
Misc: Competed in the National Sports Festival 1979 and won the Gold Medal in Artistic Pairs.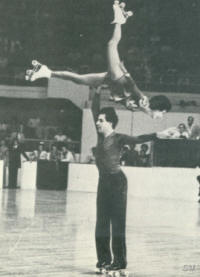 American Championships, 1974: "It's unfortunate that second place Ray Chappatta and Karen Meja who placed 1st in eliminations, had a fall during their routine, as their program was by far the most exciting and innovative of the event. Karen's small size is an asset to the team as it allows them to make several difficult lifts look almost effortless." SKATE Fall, 1974

World Championships, 1976: "Ray Chappatta and Karen Mejia once again captivated the audience with their dramatic and music inspired interpretation. Fiery Ukrainian dances complemented by flashy costumes set them apart as having one of the most artistic programs ever seen in world roller competition. A momentary lapse of control forced them into a barrier on one of their most difficult items, a one-handed lasso lift. For the second year in a row, Ray and Karen were awarded the silver metal." SKATE, Winter 1977

American Championships, 1979 :"Ray and Karen, skating beautifully in the opening moments of their routine, attempted a no-handed airplane lift, a move they had successfully repeated in practice. Suddenly without warning, Ray tripped, dropping Karen seven feet to the skating floor. Although visibly shaken, Karen miraculously got up, and they completed their routine to a thunderous standing ovation. They won the hearts and admiration of the skating world, but they didn't win their goal of 1979 National Champions. " SKATE, Fall 1979
---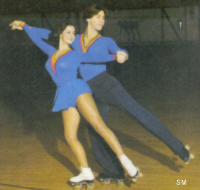 Chopp (Larry) & (Terry) Campbell
From: Pontiac, Michigan
Pro: Jane Puracchio, Laurene Anselmi
Rink: Rolladium
National Titles:
Misc: Terry is the older sister of skater Kimberly Campbell; Larry used to skate with Judy Landau where they took the Junior International Style Dance 1975; Terry used to skate with Greig Patton where they took International Style Freshman Dance 1975, Junior International Style Dance 1976 ; Terry won Elementary Girls Figures 1971;
"With Terry's freestyle and free dance background, the Chopp/Campbell team is already one step ahead of the any other newly formed dance team. Chopp noted he felt the team is physically a better matched team than the Chopp/Landau team. "With Terry being shorter, we look better together as a team, and the height difference should strengthen our team," Chopp said. " SKATE Magazine, Summer 1979
---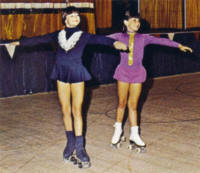 Coleman, Robbie
From: Memphis
Pro: Gene Buell
Rink: Skateland Frayser Skate Club
National Titles: Primary Singles 1969; Elementary pairs (with Pat Jones) 1970; Juvenile Girls 1973; Freshman Pairs (with Pat Jones) 1973; Freshman Pairs 1974; Sophomore Fours 1974; Elementary Girls
Singles 1974;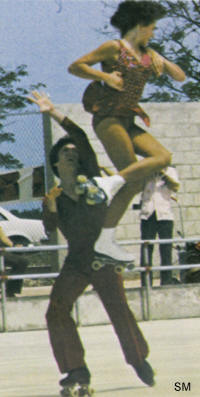 Junior Pairs (with Pat Jones) 1974; American Freshman Ladies Singles 1975; Junior Ladies Singles 1976; American Senior Ladies Singles 1977;

American Championships, 1974: "The first Pairs team of the event, Robbie Coleman and Pat Jones, calmly skated onto the rink floor. Then, as their music began, the team came to life. During the following three minute routine, the audience rarely had a chance to catch their breath. At the conclusion of their program, a continuing series of lifts, shadow movements and exciting footwork, the young enthusiastic team brought the crowd to its feet in praise. It proved a tremendous way to begin the evening and a tough act to follow. At the event's conclusion, Robbie and Pat were named the 1973 Freshman Pairs Champions." SKATE Magazine, Spring, 1974
American Championships, 1975: "Robbie obviously loves to skate and everyone loves watching her. She is like a little fireball on skates, always with a big smile on her face as she flashes across the skating floor." SKATE Magazine, Fall 1975
American Championships, 1977: Robbie Coleman's ever-electric skating style once again won the audience and the judges alike. This seemingly fearless skater from Tennessee whizzed around the floor like a regular jumping bean, executing spins and long jump combinations. Coleman's energetic skating is invigorating to watch." SKATE Magazine, Fall 1977
---
From: San Diego
Pro: Gene Ringeisen
Rink: Skyline Rollarena
National Titles: Juvenile "B" Girls Singles Champion 1971; Juvenile Girls 1974;
Misc: Girls Singles Gold Skate Champion 1972;
Gold Skate Classic, 1972: "There were 49 girls through 13 years of age skating in Girls Singles. Randi was one of the youngest, and it was her first Gold Skate. Randi's music costume, and routine all interpreted her Swan Lake theme beautifully, and she performed with all the poise and grace of a prima ballerina. Again she was victorious." SKATE Summer 1972
---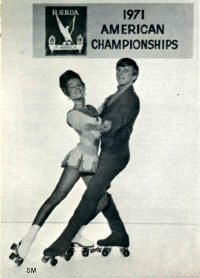 Creten (Marcie) & Fudge (Gary)
(Marcie Creten is deceased)
From: Kansas City, Kansas
Pro: Tim Maloney
Rink: Highcrest Roller Rink
National Titles:
Misc:
"It's a matter of record that Gary and Marcie have been highly successful as a dance team. In 1968 and 1969 they were the Junior Dance Champions from the North Central Region. They went on to be regional Intermediate Champions in 1970 and Senior Dance Champions in 1971. But, their individual figure careers also share the limelight. Both have placed every year in each division from Juvenile through Senior Figures and they subsequently have skated figures at Nationals for the past eight years. They have their Gold Medals in Dance, and Marcie also has a Gold Medal in Figures. " SKATE Magazine, Summer 1972
Thanks to Tom Bense for these photos!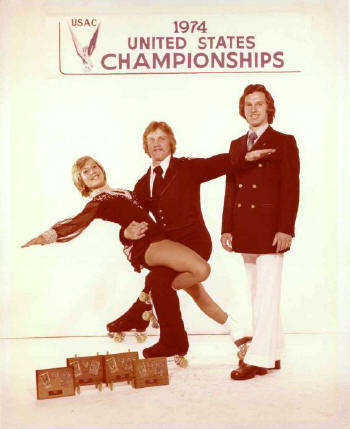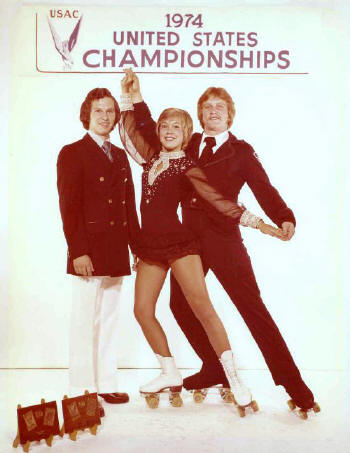 ---