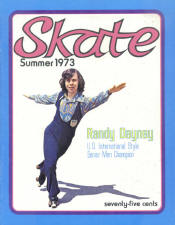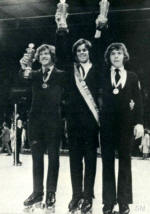 Dayney, Randy

From: East Meadow, NY
Pro: John Dayney
Rink:
National Titles: International Senior Mens 1972 & 1973; USARSA Senior Mens Singles 1970 & 1971;
Misc: Went pro around 1974.

International Events 1972: "In the free skating Randy made it clear that he was determined to defend his Senior International Gold Medal by skating a near perfect program. His superior content was shown in the beautiful execution of the double axel and two triple revolution jumps combined with dazzling and intricate footwork." SKATE Magazine, Fall 1972
---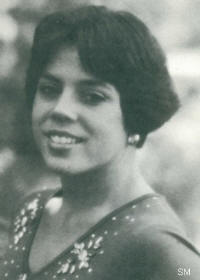 Dunn, Natalie



From: Bakersfield
Pro: Omar Dunn, Delores Dunn
Rink: Skateland
National Titles: Freshman Pairs (with Virgil Miller) 1970; Junior Ladies 1972; Junior Pairs (with Virgil Miller) 1972; American Senior ladies 1973; International Senior Ladies 1974; Senior Ladies 1974; World Senior Ladies 1976; World Ladies Singles 1977;

Misc: Numerous other World and National placements; Is left handed; nicknamed "Butch"; Awarded Skate Magazine's 1979 Amateur of the Year; admitted to the Kern County Hall of Fame; Fractured a bone in her leg during the 1979 Pan Am Games and still won a medal;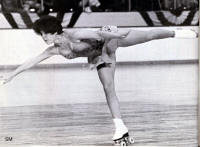 Excerpt From: "PROFILE OF A CHAMPION: NATALIE DUNN " from SKATE Magazine, Summer 1978
"Throughout her amateur career, which began at the age of seven, Natalie has competed in hundreds of championships. Two are especially memorable to her; the 1974 National Championships, when she won her second Senior Ladies Title, and the 1976 World Championship. Spectators at the 1974 championships were thrilled as Natalie and April Allen Powell, a two-time Senior Ladies Champion, delivered flawless performances. Natalie had long-admired April's skating, and the competition was very exciting. April finished second to Natalie, in what has been billed as one of the most memorable championship events in roller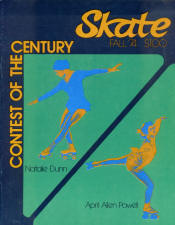 skating history. And Natalie won the first of her two World Titles in Rome, 1976. She said winning the World title the first time was totally unexpected.

"In 1964 she won the Tiny Tot Singles championship. In 1973 she won her first US Amateur Senior Ladies Singles title, and in 1974 she scored a rarely achieved double by successfully defending her US Singles title and also winning the World Title. Since 1975 Natalie has placed second in the US Championships. In World Competition she placed third in 1975, but came back in both 1976 and 1977 to claim first place in World Competition, a title she will defend later this year in Portugal.

"Appearing before audiences all her life, Natalie hopes she is remembered not only for her skating ability but also for her attitude of being both a good winner and a good loser. Has skating done anything for Natalie? According to the superstar on wheels she now considers herself an extrovert, rather than the shy introvert she once was. She attributes the change in personality to the constant exposure skating has provided her. Recently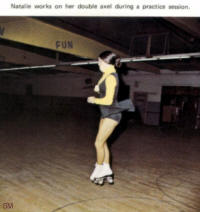 Natalie cut her long black hair. She said she feels the short hair is more natural and is a better representation of her personality. When Natalie isn't performing, her favorite attire to match the warm California weather is shorts and a tee-shirt. She does like to dress up when the occasion merits it. Her friends both on and off the skating floor are not jealous of Natalie's accomplishments, but rather are in awe of her and the 300 trophies she has won. Sometimes she says her friends act as though they are afraid of her.

"In between her almost continual skating schedule, 'Butch' has found little time to continue with her education, but she does try to squeeze in an occasional quarter or two at Cal State where she is majoring in business. Upon retirement from amateur competition, Natalie plans to teach with her father at the Bakersfield, California rink. Eventually Natalie hopes to manage the rink, and possibly to open her own roller skating center.

"The World champion says she hopes she leaves her audience with a good attitude about skating, and recognizes that she has a reputation to live up. Natalie says she can see her style being copied by some of her father's younger students. Since both his younger students and Natalie share the same coach, it is not surprising the skating styles are similar. Her philosophy for those who will follow in her footsteps is to find out what you want to do, make it your number one priority and then work until you reach your goal. Since her competitive skating years began, Natalie has always believed when she doesn't win, it is because she just wasn't good enough. She does not make any excuses for her skating."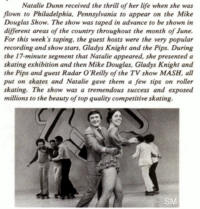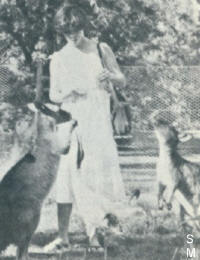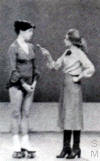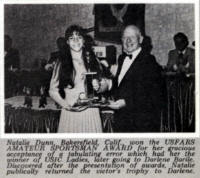 ---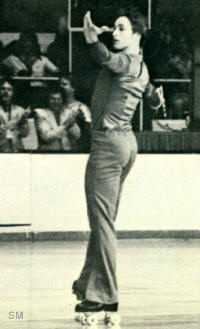 Elsworth, Rick

From: Grand Blanc, Michigan
Pro: Bev Schien
Rink:
National Titles: International Junior Men 1975;
Misc: Numerous National and World placements as a pairs and single skater;; A trademark of his singles routine is the "triple Lutz "-- Elsworth was the first skater ever to perfect it in national competition; Has partnered with Danette Sullivan and Anne-Marie Green;

American Championships, 1980: "The runner-up team of Elsworth/Green, Flint, Michigan, was exciting to watch. The strength of Rick Elsworth combined with the very pretty skating of Anne-Marie Green makes it difficult to believe that this team has been together less than a year. Rick has been a top national competitor for many year, but the showing that 16-year-old Ann-Marie made this year in Singles and Free Dance, as well as Pairs, suggest that she may be skating's rising star. " SKATE Magazine, Fall 1980
---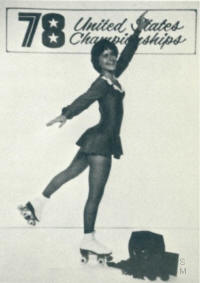 Fosgate, Amy

From: Monroe, Michigan
Pro: John Harris
Rink:
National Titles: Junior Ladies Singles 1978;

"Amy admitted that there are many competitions she would rather forget than remember. But, she commented, winning at last year's state, regional and national competition made up for all the not-so-good years. " SKATE Magazine, Spring 1979

---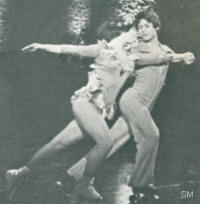 Galante

(Wendy) & Golub (David)
From: East Meadow, NY
Pro: Jack Burton
Rink: Levittown Skating Rinks
National Titles: American Free Dance 1977; American Free Dance 1978;
Misc: Skated on TV during the Teenage Miss American Pageant (11/25/1977);

American Championships, 1977: "Winning the event with routine which was fresh and upbeat was the young team of Wendy Galante and David Golub of East Meadow, NY, the deciding factors being near perfect unity and interpretation." SKATE Magazine, Fall 1977

American Championships, 1978: "Look enough alike to be brother and sister, the International Junior Dance Champions David Golub and Wendy Galante skated to fat, upbeat, music and captured their second straight national championships. In 1977, they were the American free Dance Champions. They've skated together since 1972. Going into their first routine, the team was in third place, but took first by skating a flawless free dance routine. David, 17, and Wendy, 15, are both native New Yorkers. They skate out of the Levittown rink in East Meadow, NY, where their pro is Jack Burton. David said he and Wendy enjoy skating international style because their routine could be 'very expressive', as it was at this year's event." SKATE Magazine, Fall 1978
---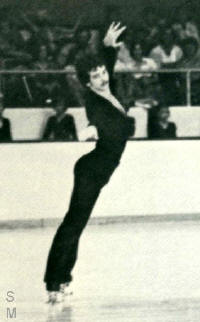 Glatz, Michael
From: Lemon Grove, California.
Pro: Georgene Ringeisen
Rink: Skyline D & F Club
National Titles: Junior Mens Singles 1972; Senior Mens 1975; Senior Mens 1979; Senior Mens 1980;
Misc: Started out as a dance skater;
American Championships 1974: "Michael Glatz of San Diego, California, placed second with a routine high in content including 2 triple Toe Wallys, a triple Salchow and triple Mapes. While Michael fell on his first attempt at a triple Toe Wally, his overall program was strong enough to gain him the second spot." SKATE Magazine, Fall 1974
---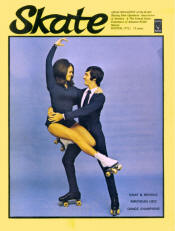 Graf (Bill) & Brooks (Baba)
From: Riverside, NJ
Pro(s): Elvin Griffin, Caryl Boehr
Rink: Riverside Skating Club
National Titles:
Misc:
"It is almost unreal how well this team matched and complements each other, both in appearance and technical style. They get along off the skating floor as beautifully as they do on. Baba comments, 'Bill and I get along so terrifically. He is extra special to me. Bill and I feel that when you enjoy doing something you should try to protect your feelings through your moods and actions. My appearance on the skating floor simply says, 'I love what I am doing!'" SKATE Magazine, Winter 1971
---
From:
Pro(s): Tom Panno, Ted Patterson
Rink: Holiday Skating Club
National Titles: Elementary Girls Singles 1978; Elementary Girls Speed 1979;
Misc:

American Championships, 1979: "At this year's national competition, her flawless Elementary Girls Singles routine received a perfect score from the judges. Throughout her routine, Trisha's delightful smile and graceful body movements captured her audience's attention." SKATE Magazine, Winter 1979
---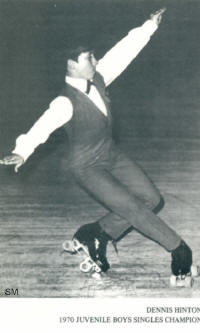 Hinton, Dennis
From: Tampa, Florida
Pro(s): Bill Myers; Jim Harmer
Rink:
National Titles: Juvenile "B" Boys Singles Title 1967; Elementary Boys Singles 1970;
Misc: Is left handed; partner (Dottie Sue Higgins) is also left handed;
"People that know him, like his teachers at school or his personal friends, will quickly tell you that if Dennis says he's going to do something, that that's exactly what he will do. He says that he's going to win the World Meet and though he is not eligible as yet, he is already working on triples and can do every edge spin. " SKATE Magazine, Summer 1971
---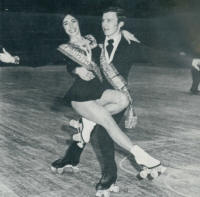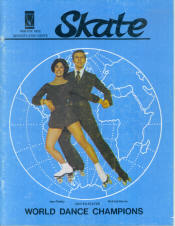 Horne (Richard) & Pankey (Jane)
From: Akron, Ohio
Pro(s): Warren Danner, Bill Best
Rink:
National Titles: Junior Dance 1968; Senior Dance 1970;
Misc: Also studied ice skating
"All of the years of ballet dance lessons, the hours of listening to music, the exercises and special diets, and the early morning and late night practices have paid off for Richard Horne and Jane Pankey. For the second consecutive year, they are the World Dance Champions." SKATE Magazine, Winter 1972
---