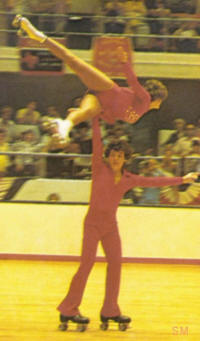 Isenhour (Debbie) & Miller (Royce)
Royce Miller is Deceased
From: Houston, Texas
Pro: Pam Cornwall
Rink: Carousel Skating Club
National Titles: 1969 - Juvenile Pairs (5th), 1970 - Juvenile Pairs (2nd), 1971 - Freshman Pairs (1st), 1972 - Junior Pairs (3rd), 1973 - Senior Pairs (4th), 1974 - Senior Pairs (4th), 1975 - Senior Pairs (3rd), 1975 - World Mixed Pairs (3rd), 1976 - Senior Pairs (3rd), 1976 - World Mixed Pairs (4th), 1977 - Senior Pairs (3rd), 1977 - World Mixed Pairs (4th)
Misc: As of 1973, they were the youngest pair ever to compete in Senior Pairs (at ages 10 and 13); competed together in the 1977 and 1978 Worlds Championships; plus a whole string of single freestyle titles for both
"When Debbie Isenhour and Royce Miller skated onto the floor at the National Championships, some spectators may have rechecked their program to make sure they were watching the right event. Why this strange reaction? Because the couple that had just skated onto the rink floor looked like they could not yet be in their teens and they stood about a foot shorter than the rest of the Junior Pairs competitors. The crowd was even more amazed when this small team began performing lifts that would seem impossible due to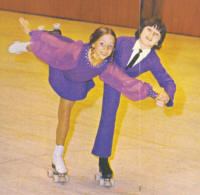 t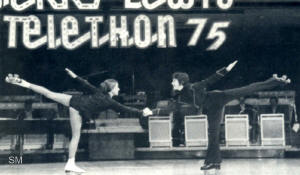 heir size. If anyone did resort to their program, they found that there was no mistake. This miniature Pairs team did indeed belong in Junior Pairs competition. " SKATE Magazine, Summer 1973
World Championships, 1977: "Isenhour and Miller were third after the short program, having skated a fine content minded performance emphasizing unity and accuracy within their shadow items." SKATE Magazine, Winter 1977
---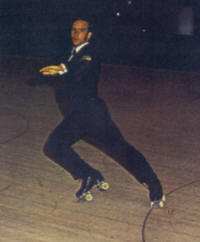 Jacques, Michael
From: Norwood, Massachusetts
Pro(s): Coonie Umbach, Jack Breen, Don Homans
Rink: Norwood Roll-Land
National Titles: Elementary Pairs 1959; Freshman Pairs 1962; Fours 1963; Fours 1964; Fours 1965; Senior Pairs, 1966; Fours 1966; Singles 1966; Senior Mens 1967; Senior Mens 1968; Senior Mens 1969; Senior Mens 1970; USIC Mens 1970; Senior Mens 1971; Senior Mens 1972;
Misc: Skated dance with partner Nancy Lou Johnson; Gold Medal in Dance;
"Consistency leads to confidence, which allows one to relax when skating. Without this feeling of security, nervousness sets in and blunders result,' says Mike in explaining why he feels consistency is the dominant ingredient to success." SKATE Magazine, Spring 1972
---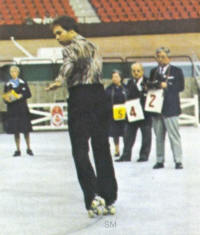 Kane, Alexander "Lex"
From: Pontiac, Michigan
Pro(s): Randy Dayney; Petra Dayney
Rink:
National Titles: Juvenile Boys Speed 1966; Elementary Boys Singles 1968; Freshman Boys Speed 1969; Freshman Pairs (with Kim Anselmi) 1969; Freshman Boys Singles 1970; International Junior Men 1972; International Mens Singles 1977; International Mens Singles 1978; International Mens Singles 1979;
Misc: Awarded Bronze medal for Mens Singles in the 1978 World Championships; Competed in the second annual (1979) National Sports Festival where he won the gold; Competed in the 1979 Pan Am Games in San Juan; Awarded bronze in the 1979 World Championships;
World Championships, 1977: "Following a five minute delay before officials could determine the cause of
his music's failure to play, Lex Kane came out with cool composure to skate a brilliant free routine. He skated to music from Swan Lake and Dance Neapoliano, boldly executing each item including a clinching double axel. His free skating placements ranged from second to eighth, putting him in seventh position." SKATE Magazine, Winter 1977
World Championships, 1978: "That evening the powder-covered cement floor was slippery and some of the men had routines marred with slips and bobbles. Lex rose to the occasion and took the floor to skate with strength and accuracy. Suited in black, Lex skated to classical music highlighted by an opening double loop. His double axel and four strong spin combinations pulled him from fourth in figures to third overall."
SKATE Magazine, Winter 1978
---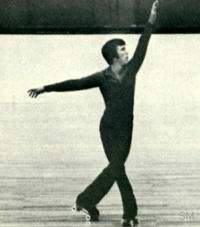 Kerwin, Kevin
From: Bakersfield, California
Pro: Jim Pringle
Rink: Rollerama
National Titles: Sophomore Pairs (with Theresa Martin) 1978; Junior Mens Singles 1978;
Misc: Also partnered with Jeanne Youngland (ED: Last name has been corrected, thanks CPH!);
American Championships, 1978: "Eighteen-year-old Kevin Kerwin of Bakersfield, California, took the Junior Mens Singles Championship with a routine highlighted by a well executed double axel. Kevin also took first place in Sophomore Pairs with partner Teresa Martin. " SKATE Magazine, Fall 1978
"For Kevin, winning two national titles made 1978 the best year ever in competition. He said he also enjoys the traveling he has done in his many years of competition. Kevin said he most admired former Senior Men's champion, Dean Maynard, because he always skated well against him." SKATE Magazine, Winter 1979
---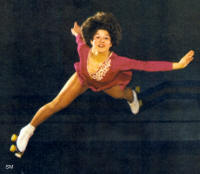 Kneisley, Tina
From: Brighton, MI
Pro: Tim Abell
Rink:
National Titles: Freshman Girls Singles 1978; Junior Ladies Singles 1979; International Pairs (with Paul Price) 1980;
Misc: With Paul Price competed in the National Sports Festival II coming in 2nd; also with Price: Junior Pairs 1977, Senior Pairs 1978 & 1979;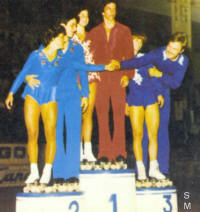 American Championships, 1980: " 'We eachh contribute something to the design of our routine,' said Tina Kneisley during a break in the competition at Lincoln. "We get a picture in your minds about it, work out all the possibilities, then refine the program based on Tim's (coach Tim Abell), Paul's (partner Paul Price) and my impressions." This constant refining has afforded the pairs team of Price/Kneisley the ability to skate clean, strong items, longer stretches, more footwork and an impressionistic routine that unsurprisingly returned to them the Senior Pairs title." SKATE Magazine, Fall 1980

---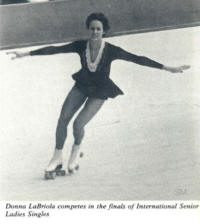 LaBriola, Donna
From: Whittier, California
Pro:
Rink: Skateland, Downey Skate Club
National Titles:
Misc: During the 1972 American Championships, Donna (having placed 7th after eliminations) fell and fractured her arm. After being given a temporary cast, she went on to skate and place second!; Numerous Gold Skate titles; sister of John LaBriola;
---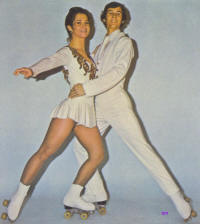 LaBriola (John) & Coyne (Debra)
From: Whittier, California
Pro: Robert LaBriola
Rink: Fountain Valley
National Titles: American Freshman Dance 1971; American Junior Dance 1972; American Senior Dance 1974; American Senior Dance 1975; American Senior Dance 1976; American Senior Dance 1977; American Senior Dance 1978;
Misc: John is the brother of National Competitor Donna Labriola;
"From the judges' point of view they have other fine points which make them champions, such as their ability set down border dances utilizing a maximum amount of floor space; their precise accuracy; and their good pace and fluidity of movements throughout the dances." SKATE Magazine, Spring 1975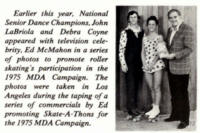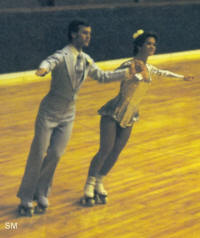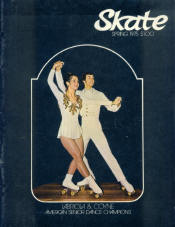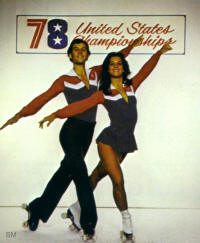 ---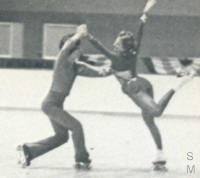 Littel (Dan) & Arseneault (Fleurette)
From:NY & Boston
Pro(s): DeeDee and John Viola; Bob LaBriola, Jack Burton
Rink: Levittown
National Titles: Senior International Dance 1977; Senior International Dance 1978; Senior International Dance 1979;
Misc: Fleurette won Freshman Girls Figures 1972; Fleurette won the International freshman Dance in 1973 (with Billy Richardson); Fleurette won American Free Dance in 1975 (with Ed Nilson); 1977 World Dance Champions ; 1978 World Dance Champions; Competed in the National Sports Festival II and placed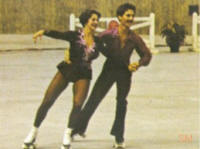 second; World Dance Champions 1977-1979; Pam Am Champions 1979;
On the 1978 World Championships (by F. Arseneault): "I wish there were some media other than words that I could use to share the warm feeling I had when I saw our skaters compete with strong determination and working so well together as a unit. It was very gratifying to hear the American Anthem when one of our team members won, to see the raising of the American Flag in recognition of a victory, and to know that I was a part of that. This is the most satisfying, wonderful, emotional moments of a lifetime." SKATE Magazine, Winter 1979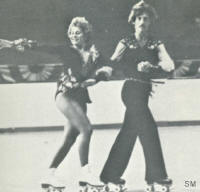 American Championships, 1979: "Dan Littel and Fleurette Arseneault made it look easy as they captured their third consecutive Senor International Dance title and their third World Team berth. Their black costumes with brightly colored stripes conveyed a vibrant, gypsy look, and the polished and very dramatic performance of the World champions captivated their audience from the moment they stepped on the skating floor. Coached by Jack Burton, the skaters included much facial expression and gestures this year." SKATE Magazine, Fall 1979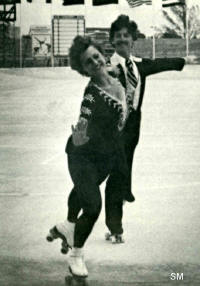 ---