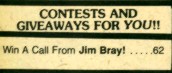 "Talk about your hot numbers! Ever since Roller Boogie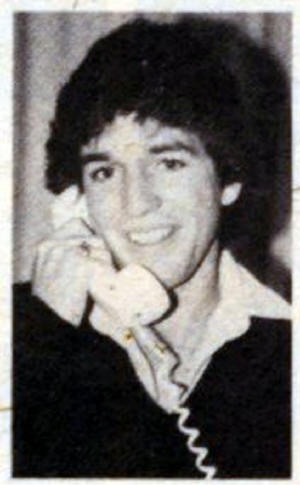 hit the screen there's been

one name on the lips of skating fans everywhere--Jim Bray! In a "Flash" of star-light he leapt into your life 'n stole your heart away, and you've been dreaming about him daily from that moment on! You've seen Roller Boogie more times than you can count just for a glimpse of his double-flippin' foxy physique--his dazzling smile and beautiful blue-green eyes just floor you in the close-ups and you can't wait to read about him in every new issue of 16! Wouldn't it be wonderful to tell Jim how much you loved his terrific portrayal of "Bobby James" in the movie? Well you just may get that chance! Even though Jim's been on a whirlwind personal appearance tour of the U.S. and the world (he just got back from Venezuela!) he knows he won't be able to meet as many of you as he'd like--and he's got a very special way of making it up to you! He's been super-busy recording his record album and working on his TV series Star City Roll Out, but Jim sets aside time to read letters from you--and he's going to say "thanks for writing!" on the telephone to five lucky fans! Imagine! You could be answering your phone 'n hearing Jim's sunny "Hello" on the other end, and you'd have the chance to to ask him all the questions you've ever had about his life, his skating and his plans! [ED: I wouldn't be conscious to ask him all those questions!] And of course Jim will want to find out all about you, too! Gorgeous Jim isn't only the hottest thing on wheels--he's also one of the warmest, friendliest people in the world, and you'll know that right away if you're one of the 5 lucky 16 readers who get the change to talk to him!"
Jim Bray was chosen as a judge for a sanctioned (?) disco skating competition in 1980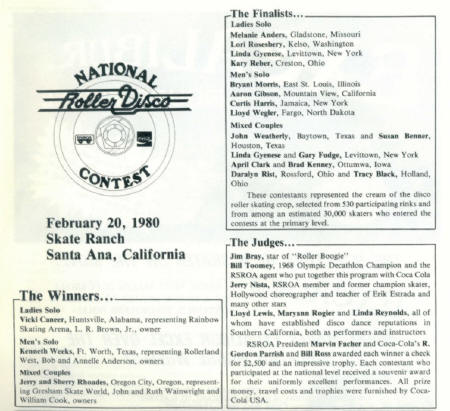 16 Magazine (April, 1980)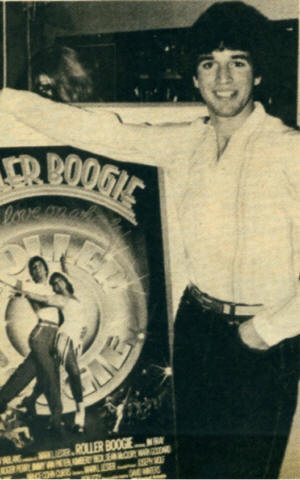 "If this dazzlin' roller-reeler has turned you into a skate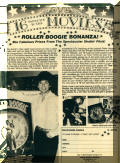 fanatic and sent ya back to the theater for more, it's wheel-y no surprise--Jim Bray and Linda Blair are simply super in it! The terrific twosome rolled into NYC for a special screening of the flick, a real roller boogie contest (they were the judges!) and some sightseeing. (It was Jim's first Big Apple trip!) And a very intimate interview with 16 Magazine--they had plenty of exciting news to tell, but bets of all, they left a brimming bag of Roller Boogie goodie just for you! What's inside? For starters, there are 10 soundtrack LPs, featuring all the original Roller Boogie music and disco hits like Boogie Wonderland and Cher's Hell on Wheels, and 10 huge full-color posters just like the one Jim's showin' ya' here! There are also five b&w glossy pix of Jim and Linda and 40 super special Roller Boogie souvenir programs that are chock-full of color pix, list the cast 'n credits, and outline the movie's story. And that's not all--there's a pair of ultra grand prizes that'll knock your skates off! One very lucky person will win an issue of 16 Magazine that's been autographed by Jim and Linda, and one winner will have a one-of-a-kind photo album to treasure forever--it's filled with incredible pix from the flick, including one that's signed by Jim!"