Did You Know?
updated: 10/17/2007
Linda Blair developed bursitis from the skating.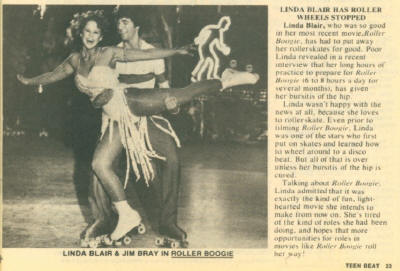 According to MayoClinic.com bursitis is "Bursitis occurs when one of the bursae becomes inflamed. When inflammation occurs, movement or pressure is painful."
Roller Boogie was filmed in Los Angeles, CA, and Venice Beach, CA.
Opened on the Weekend of December 23rd, 1979.

Opening Weekend: $767.854 on 478 Screens

Gross: $775,133

$13,253,715 (www.imdb.com)
The picture was shot on 35mm film in METROCOLOR.
While Linda Blair did a majority of the skating, obviously she did not do most of the technical stunts. "Everything that you can tell is me, is me. I could not, obviously do the 'flying camels' or some of the moves like a figure skater. I skated when I was very young, and I trained for nearly six weeks. It was hard. I really never skated back then." (Linda Blair Interview)
Actor Sean "Jammer Delany" McClory died December 10th, 2003. He will be missed.
Choreographer David Winters originally did not want to do Roller Boogie, wanting to concentrate on his own writing and directing projects. The producers came back to him with an offer for a "percentage of the grosses." (David Winters) Since the movie was commercially successful, I guess he made the right decision.
Former General Hospital/Port Charles actress Lynn Herring made one of her first onscreen appearances as a skater.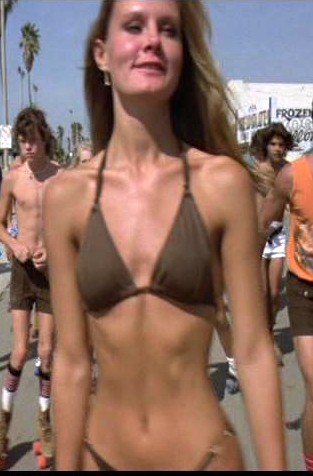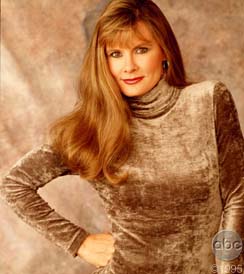 Jim Bray had to give up his amateur status (as a skater) to make this movie.
Jim Bray was a National Artistic Roller Skating Champion in Pairs and Singles for several years before he made this film.
Originally, Jim was not supposed to act in the film. The producers wanted him to perform the skating routines. He says: "Originally I was just going to skate for the actor they selected to play opposite Linda Blair, but they couldn't find any actors they liked who skated, so they asked me if I could act and they gave me a chance. They liked me so they would give me voice lessons and teach me to act, so that's what happened. I was hesitant about it at first, but now I'm really happy because I'm getting other acting offers and I think I'm going to make a career out of it." (Teen Beat Super Stars, September 1980).
That several of the songs from the soundtrack made their debut in the film?
(Thanks to Mr. Albert Insinnia for that little bit of info)
Bob Esty's "Love Fire" would eventually appear on the soundtrack to Disney's Flight of the Navigator. The song came out in 1979 but when it was used in Navigator, the setting was 1978.
(Thanks for Sara for this interesting bit of trivia!)
Skate extra Carrington Garland is the real life daughter of Roller Boogie mom Beverly "Lillian" Garland! She went on to appear in the popular soap Santa Barbara. For recent photos try here: http://sbstars.webcindario.com/picgarland.htm
(Thanks to Kelly for this!)
Barbara "Bobbi Jo" Guedel doubled for Linda in the roller boogie contest
We first meet Gordo onscreen as he is making out on top of a dumpster. That was Albert Insinnia's idea. He may have had some influence on choosing that extra too.
Gordo's line wasn't supposed to be "Horis Doovers". The original dialogue was "Hors Ovaries." Beverly Garland thought it should be changed. (good call, Ms Garland)
In August of 2006, several American Apparel stores in NYC actually played Roller Boogie on TVs in their store windows. At the time the store was selling those shortie-shorts and other various late 70s-early 80s inspired clothing.
ETA (July 2007): In a recent AP article (here): "At American Apparel, designers didn't overanalyze the how and the why of bringing back roller-inspired fashion, they simply saw Roller Boogie - a 1979 movie in which Linda Blair tries to save her favorite on-wheels disco - one too many times.
'We became obsessed with that movie,' Matthew Swenson, the company's fashion media director, explains. 'On a whim, we also bought lamé fabric and turned them into leggings, and the gold and silver took off.' "
Super Roller Boogie fan Natasha sent me these great photos of Bobby's apartment and Muscle Beach--how they look now.
Bobby's Apartment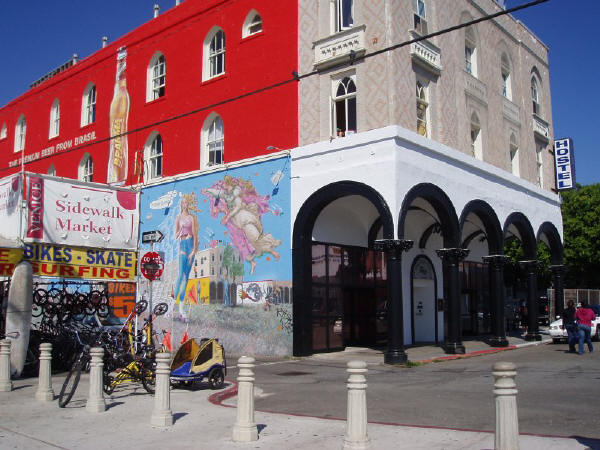 For Comparisons (Click on thumbnail)

Muscle Beach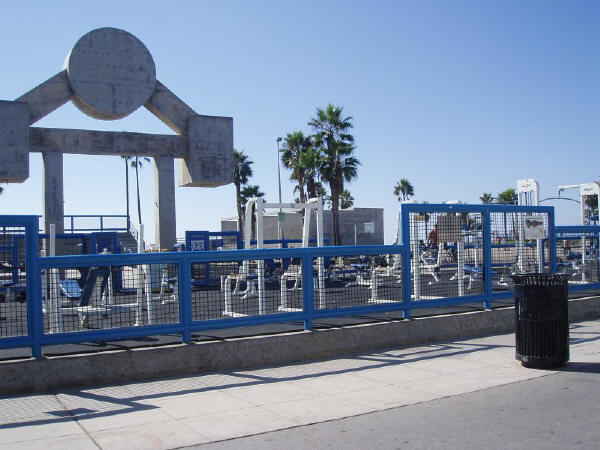 Thank you for sharing these great photos Natasha!
While Rob "C.C. Conway" Sciacca is in nearly every scene, notice he has no dialogue! Never says a word!
Some Cool Factoids about The Soundtrack (From Songwriter Michael Brooks)
Jean Shy's "Night Dancer" was the first Brooks-Esty song recorded
1979 was a big year for Bob Esty. Michelle Aller and Michael Brooks were brought in to write lyrics.
Brooks: "Bob had just finished producing a second Cher disco album called Prisoner in the summer of '79 (which is where Hell on Wheels comes from originally), when we were all offered the job of doing the RB soundtrack. We never really thought it would be a great work of art but it was work ! We only had a few weeks to get some material together as primary shooting was well under way. My big moment was the Summer Love scenes, which you must admit is a BIG part of the drama ! It was all such fun."
A few notes on the soundtrack LP.
Brooks: "The only outside track was the Earth,Wind and Fire song which we had nothing to do with. Mavis Vegas Davis is , of course, Michelle Aller. Ron Green was a studio singer who was a friend of Bob's ( I trust you know the Pointer Sisters' version of We've Got The Power !) Johnnie Coolrock was just a local L.A. band that Larry Emerine was trying to push. I knew Stephen Marcussen, and Daryl Peck very well and Studio 55 (which no longer stands) was our home. I do recall that doing the Supertramp song Lord is it Mine was my idea! I was into Prog Rock as well as Punk and New Wave. There is actually a version of Bob trying Elvis Costello's Pump it Up which thankfully remains a RB out take !"